Tongari Cuisine Blog
【Tongari Cuisine Blog】
vol.11 Southern point, Seafood, and local food of Erimo
---
What is Tongari Cuisine Blog
In 2019, we started the project "Team Tongari" in collaboration with Tongari Road Wide-area Cooperation Council and Hokkaido Camera Girls' Association.
Team Tongari has been working on a project to promote the charms of Urakawa, Samani, Erimo, and Hiroo through photography and words to supplement.
"Team Tongari" was initiated from a group of camera loving local girls.
21 women living in Tongari Road area have been taking photographs while rediscovering the beauty of their home towns.
"Tongari Cuisine Blog" is a report about the team's recent discoveries of local gems of hidden deliciousness of Tongari Road.
---
vol.11 Erimo

The southern point Blessing food from sea and mountain Erimo

I would like to introduce you today the "Erimo chan".
It is produced at Ohira Suisan, the fishery of Erimo town,
using fresh whelk landed at Erimo.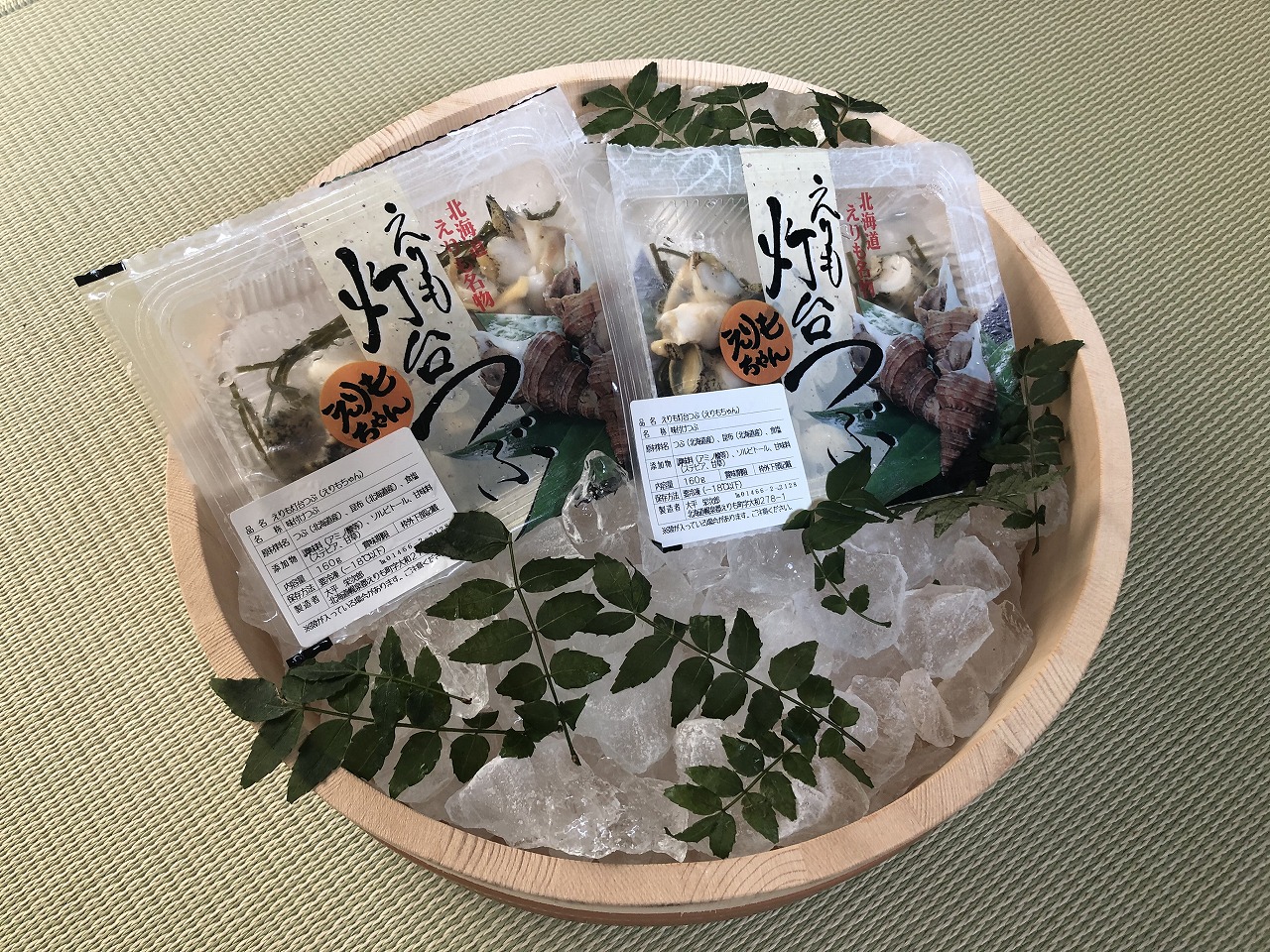 Off the coast of Erimo is a good fishing ground
where the Oyashio (cold current) and
Kuroshio (warm current) collide.
Boil the whelk caught in such good fishing grounds, then wash it in salt water.
Mix in the secret family recipe soup stock and Erimo kelp and it is ready!
Once you try it, you will be addicted to it because
the flavor of the whelk is enhanced and the texture of the whelk is so addictive.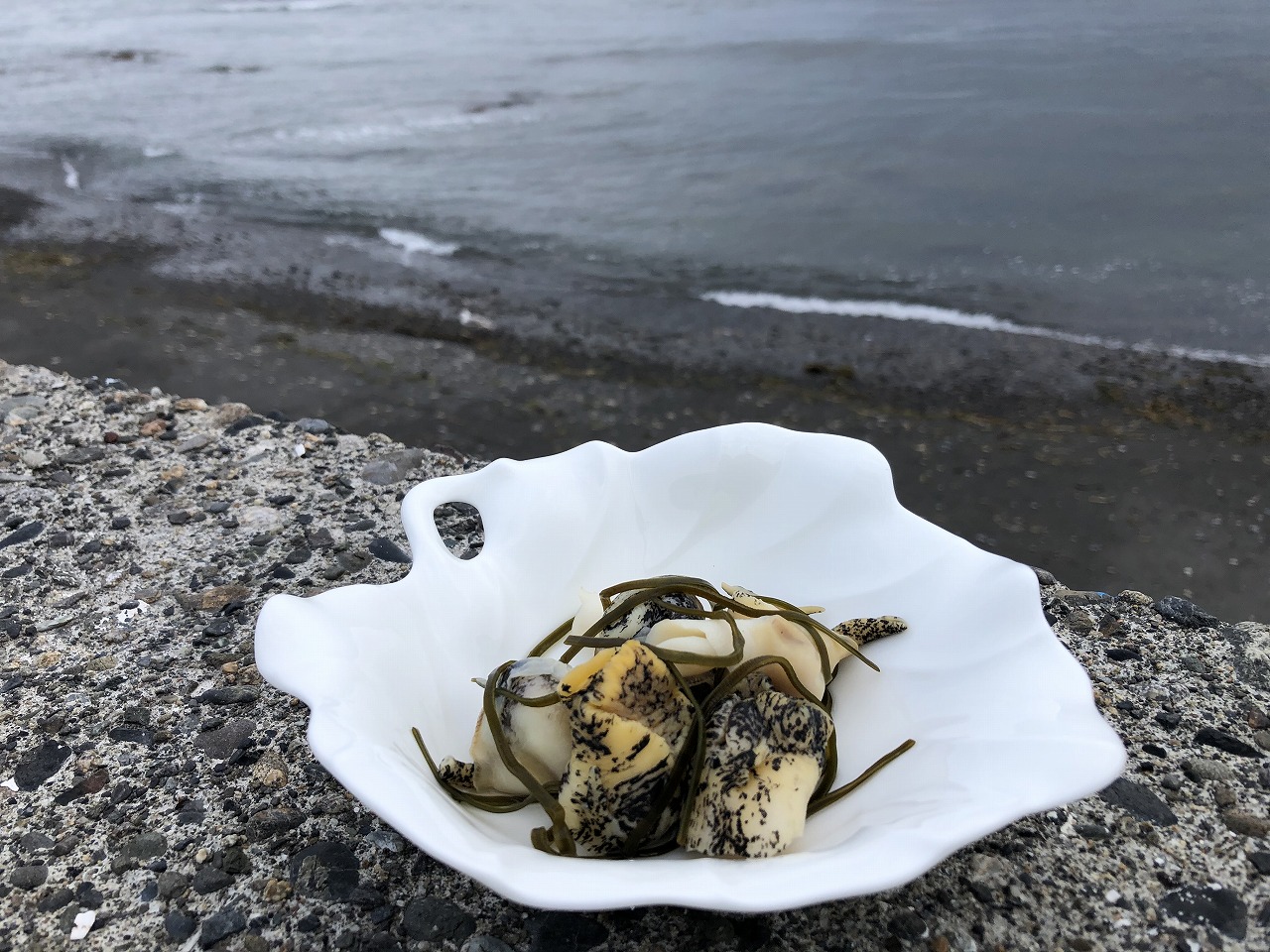 Where to buy・Inquiry
---
■Ohira Suisan: Eijiro Ohira
278-1 Aza Yamato, Erimo  TEL 01466-2-2128
■Erimo Fishermen's Cooperative Association Direct Sales Shop
650 Aza Yamato, Erimo  TEL 01466-2-3939
HP http://www.jf-erimo.or.jp/
Photo・Written by

---
HITOMI.Y (Erimo Town/Team Tongari)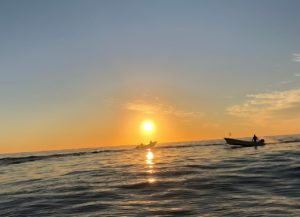 Born and raised in Erimo, I mainly photograph the fishermen working in Erimo,
the flora and fauna of Erimo National Park of the Hidaka Mountains, and children's sports.
Lake Toyonikoko, an emerald green heart lake, is located in Erimo Town, the most pointy part of the Tongari Road.
I would like to introduce fresh seafood and other delicacies from the sea and the mountains.
I am confident in my physical strength, so I will use my nimble footwork to deliver my wonderful moments to you.
Team Tongari will continue to publish this "Tongari Cuisine Blog" until the end of August.
We'll be updating this regularly from now on, so stay tuned!
▼Hokkaido Camera Girls' Association Website https://hokkaido-camera.com/