Tales of my Tongari town
vol.23 The best photo spot for cherry blossoms with the sky and the sea in the background
---
In 2019, we started the project "Team Tongari" in collaboration with Cape Erimo Tongari Road Wide-area Cooperation Council and Hokkaido Camera Girls' Association.
Team Tongari has been working on a project to promote the charms of Urakawa, Samani, Erimo, and Hiroo through photography and words to supplement them.
"Team Tongari" was initiated by a group of camera-loving local girls.
23 women living in Tongari Road area have been taking photographs while rediscovering the beauty of their hometowns.
"Tales of my Tongari town" is a new series of reports about the team's recent discoveries of local gems of Tongari Road.
Starting from the 10th issue, we will introduce "people, objects, and things" that our members would like to recommend to you.
---
vol.23 Erimo
The best photo spot for cherry blossoms with the sky and the sea in the background
---
■ "Shoya Sakura Park" a place to enjoy cherry blossoms along with the sky and the sea.
The "Shoya Sakura Park", where the sea and cherry blossoms can be enjoyed at the same time from a hill, features approximately 1,500 cherry trees blooming in and around the park.
It is one of my favorite spots in Erimo where I live.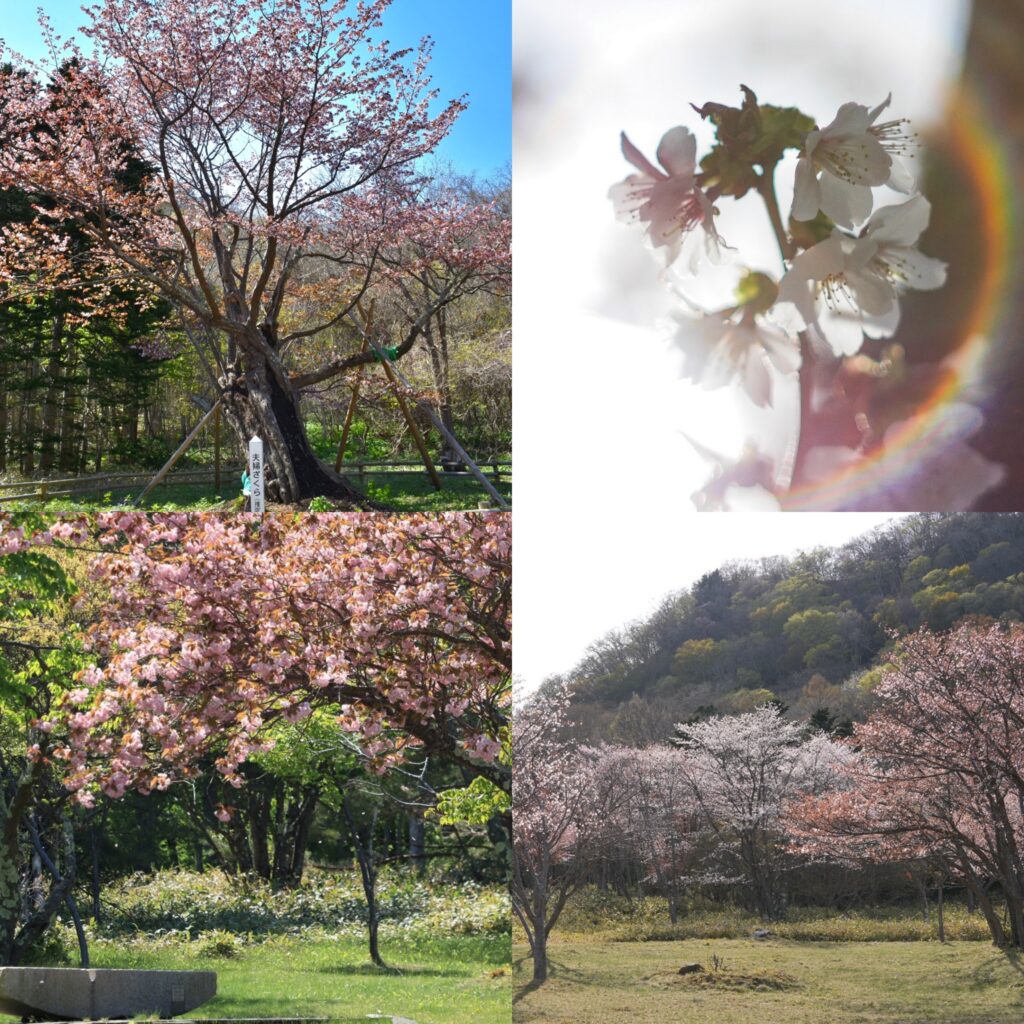 Toward the mountain side of the park, there is a "couple" cherry tree, estimated to be 300 years old. It was originally two cherry trees that became one large tree by supporting each other.
On the ocean side of the park, there is a photo spot where you can take pictures of the cherry blossoms with the sky and ocean in the background.
When you need to take a break from walking, we recommend sitting on a bench with a view of the ocean and spending some time gazing at the Pacific Ocean. It is so relaxing.


Spot Information
・Shoya Sakura Park
Place: 550 Aza Shoya, Erimo-cho, Horosen-gun, Hokkaido
TEL:01466-2-4626
URL:https://www.town.erimo.lg.jp/kankou/pages/k9mfea0000000hti.html
Photos・Written by


Jyunko Yanagida (Erimo / Team Tongari)



This is my 13th year in Erimo Town, and it is a powerful learning experience for me in terms of nature, people, and wildlife.
I invite you to come and experience the great wilderness that can only be experienced here.


HITOMI.Y (Erimo/Team Tongari)




I was born and raised in Erimo. I have been mainly photographing the fishermen of Erimo, the flora and fauna of Erimo National Park in the Hidaka Mountains, and children's sports.
Erimo is home to the emerald green heart lake Toyonikoko, and is the most pointy town on the Tongari Road.
I would also like to introduce Erimo's fresh seafood and other delicacies from the sea and mountains.
 I'm confident in my physical strength, so I'll use my nimble footwork to share the wonderful moments of Erimo with you.


The location information is also available on Google Map as "Tales of my Tongari town"!
Thank you for enjoying this series of stories.
You can find all of our previous stories at the links below, so please take a peek!
Check out all our blogs here