Tales of my Tongari town
vol.7 Icefall Ohonai Falls, an ice sculpture created by nature
---
「Tales of my Tongari town」
In 2019, we started the project "Team Tongari" in collaboration with Tongari Road Wide-area Cooperation Council and Hokkaido Camera Girls' Association.
Team Tongari has been working on a project to promote the charms of Urakawa, Samani, Erimo, and Hiroo through photography and words to supplement.
"Team Tongari" was initiated by a group of camera-loving local girls.
23 women living in Tongari Road area have been taking photographs while rediscovering the beauty of their hometowns.
As the next series of "Tongari Cuisine Blog", "Tales of my Tongari town" is a new series of reports about the team's recent discoveries of local gems of Tongari Road.
---
vol.7 Samani
Icefall Ohonai Falls, an ice sculpture created by nature
It was a beautiful, sunny afternoon during the New Year break.
With a cold wind blowing, I went out to witness the special scenery that only appears during this season.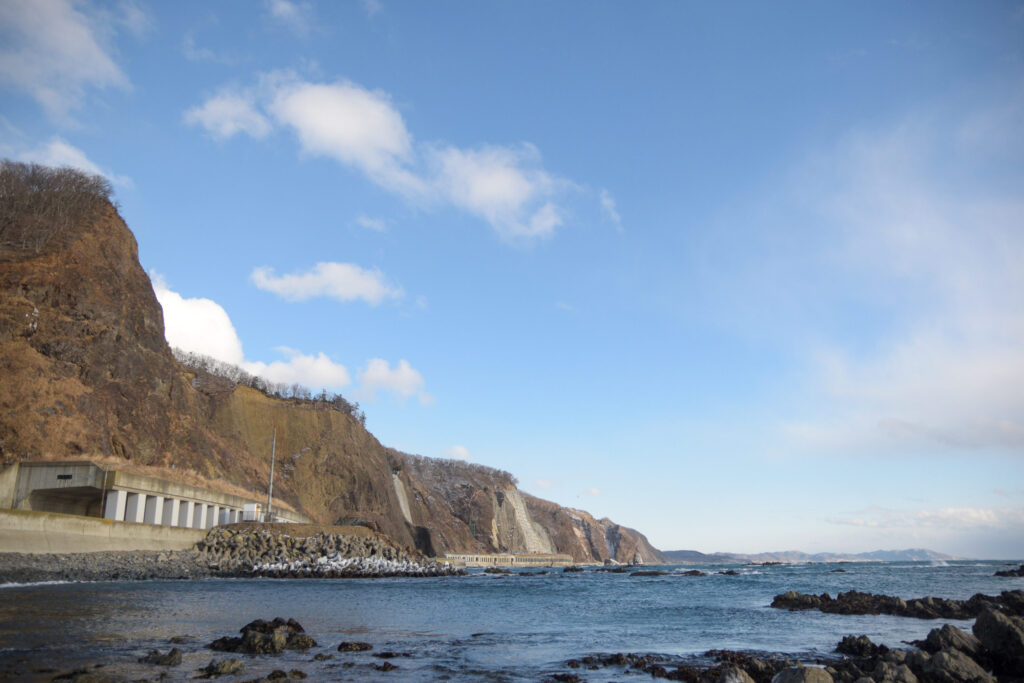 Hidaka Yabakei, where the foot of Mount Apoi at the southern end of the Hidaka Mountains plunges into the Pacific Ocean, there is a group of steep cliffs on a coastline that stretches about 7 km (4.35 miles).
If you take the old national highway that runs along the sea from Route 366, you will be overwhelmed by the view of the 100-meter-high (328 feet high) cliffs that suddenly appear right in front of your eyes.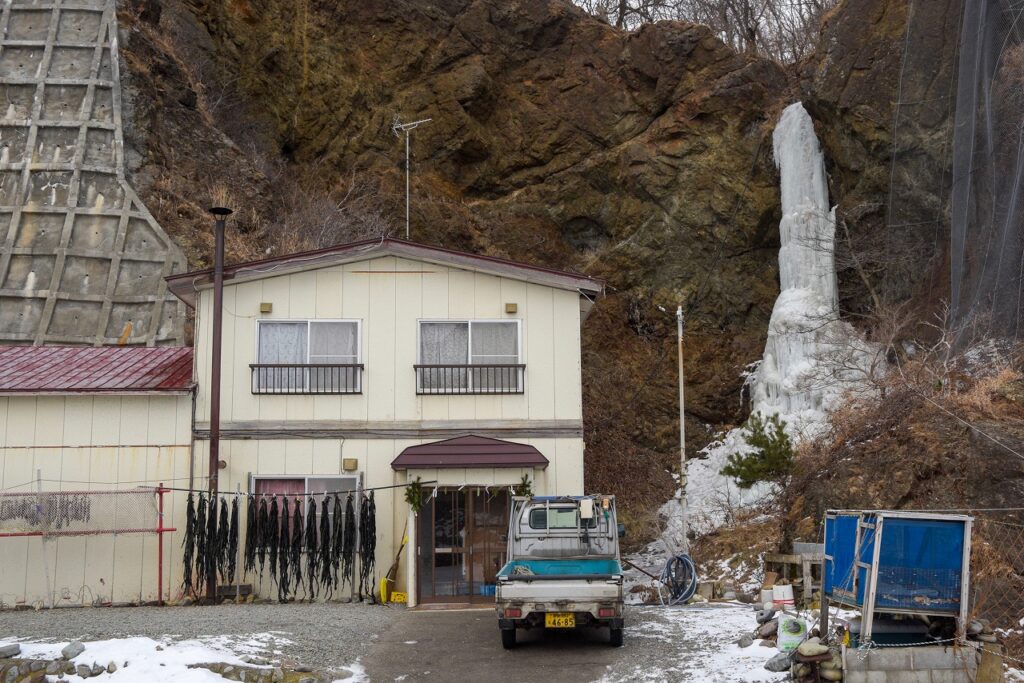 The house that stands alone at the end of the tunnel is the home of a kelp fisherman named Endate.
 Our destination, "Ohonai Falls" (also known as "Endate Falls"), is located behind this house.
After asking for permission, I carefully walked down the slippery stairs beside the house to look up at Ohonai Falls, which had become an icefall earlier than usual this year.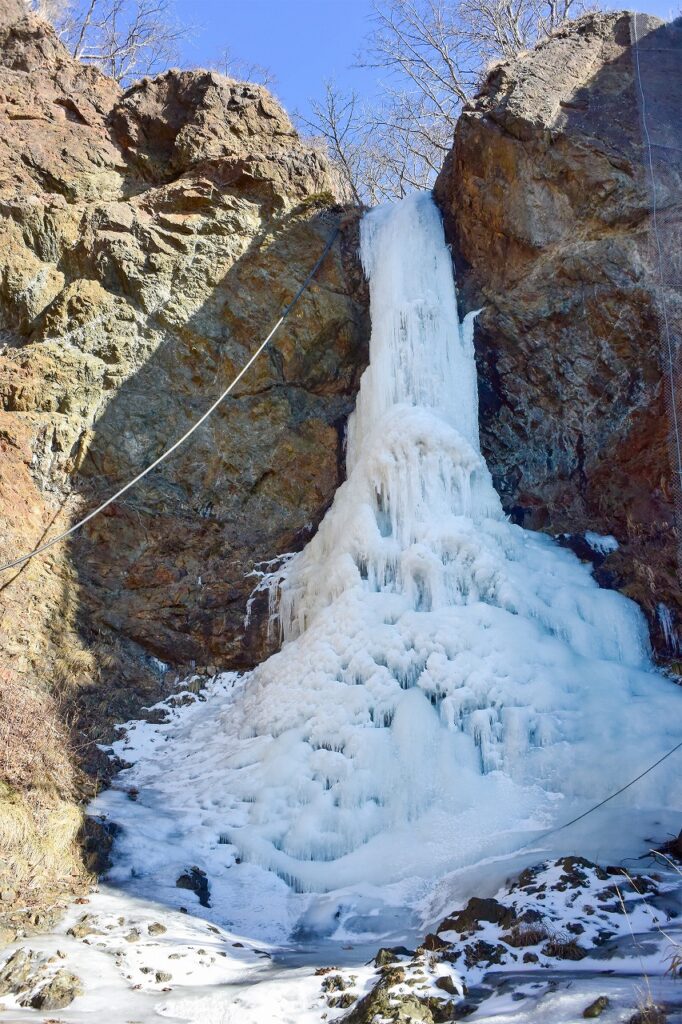 The clear water constantly flowing down from the V-shaped rocks forms thin icicles, which are layered on top of each other to create this spectacular winter scenery of Ohonai Falls, an ice sculpture created by nature that can only be seen during the long and harsh cold season.
When you listen closely, you can hear the small chirps of birds, usually drowned out by the roar of the fall, and the sound of water trickling quietly beneath the frozen surface.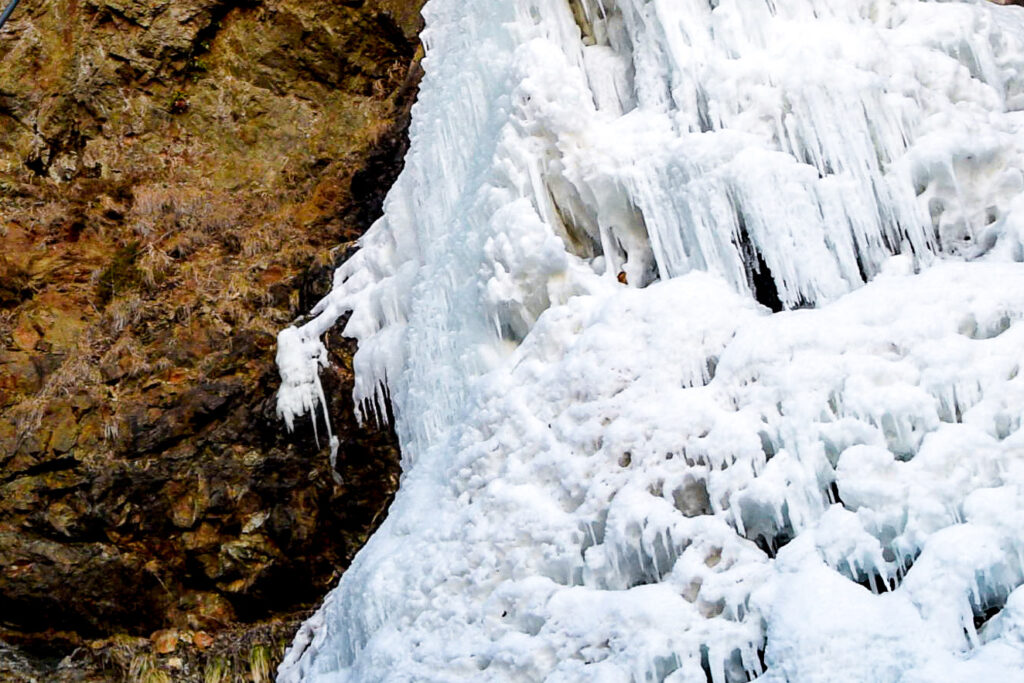 If the season is on track as usual, we will be able to enjoy the winter scenery of Ohonai Falls until around February.
When visiting, please be respectful of the residents and be kind enough not to interrupt their lives.
Address
Ohonai Falls (also known as Endate Falls)
Location: Horoman District, Samani Town
Website
Hidaka Kanko Navi https://hokkaido-hidaka-kankonavi.com/database/samani/1963/
---
Photo・Written by
Sachi Ohmiya (Samani/Team Tongari)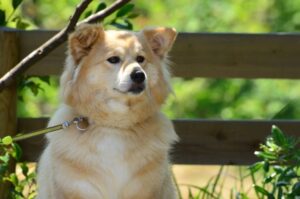 It has been 5 years since I migrated to Hokkaido from Kanto after graduating college.
My recent favorite thing is to take pictures of my 1 year old daughter who loves to play in the big nature of Hokkaido. She also loves Oyakoiwa Fureai Beach in Samani.
The location information is also available on Google Map as "Tales of my Tongari town"!
Team Tongari will continue to publish this "Tales of my Tongari town".
We'll be updating this regularly from now on, so stay tuned!
▼Hokkaido Camera Girls' Association Website https://hokkaido-camera.com/