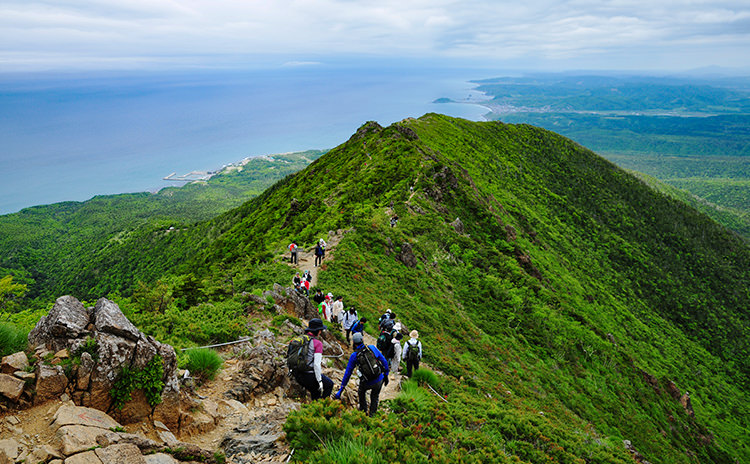 Alpine plants and the panoramic view is waiting for you! Mt. Apoi climbing♪
Event season
All year around (Closed irregularly)
Time and Duration
Duration: 4 - 6 hours
Price
Mt. Apoi Umanose - peak : ¥8,000
Pinneshiri - Mt. Apoi Traverse: ¥13,500
Max. Group size
15 people (Min. 2 people)
*Please consult with us if 1 person
Meeting point
Mt. Apoi Geopark Visitor's Center
(479-7 Hirau, Samani)
Guide
Geopark tour guide
What to expect

Know as "Mt. Apoi, a mountain of flowers", it is only 810 meters above sea level but is home to unique alpine plants. From the fifth station (375m above sea level), the rocky terrain of "Kanran Iwa" which forms the mantle of the mountain, appears. The climb begins in earnest from there. The panoramic view of the Pacific Ocean and the Hidaka mountain range from the ridge and the variety of alpine plants will rejuvenate your mind.
Why don't you sweat it out while enjoying the alpine flowers and scenery with a Geopark guide, the Mt. Apoi expert? In autumn, when the flowers no longer blood, the trees' leaves change color and offer another beautiful sight to take in.
A veteran guide will take you to the best spot of the moment all year round.

Reservations

Samani Town Mt. Apoi Geopark promotion committee
(Samani Town Hall Commerce and Tourism Division)
0146-36-2120
apoi.geopark@samani.jp
http://www.apoi-geopark.jp/

Additional information

*Please make a reservation at least one week in advance.
*Please be sure to bring your own climbing shoes. We also recommend to bring rain gear, extra warm clothes, trekking pole, drinks, and food.
*Crampons are required in winter.