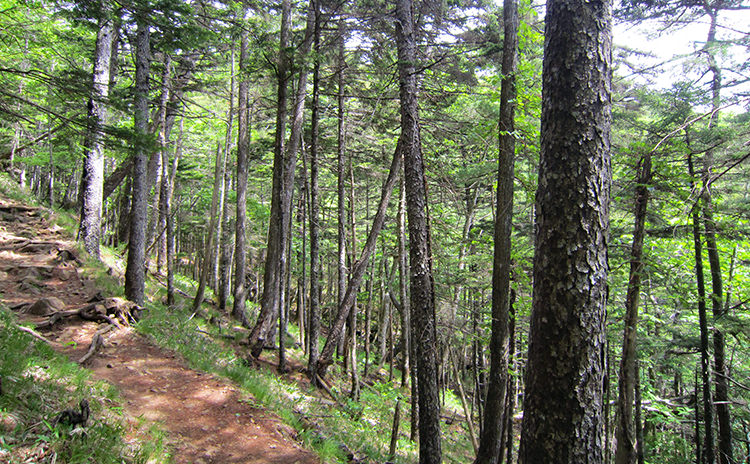 Care-free, relaxing forest bathing hike in Mt. Apoi evergreen forest.
Event season
All year around (Closed irregularly)
Time and Duration
Duration: 1 - 3 hours (flexible depending on time and strength)
Price
1 hour: ¥1,500
2 hours: ¥2,500
3 hours: ¥4,000
Max. Group size
15 people (Min. 2 people)
*Please consult with us if 1 person
Meeting point
Mt. Apoi Geopark Visitor's Center
(479-7 Hirau, Samani)
Guide
Geopark tour guide
What to expect

The forest of Mt. Apoi is a precious virgin forest dominated by red spruce and goyoumatsu (five needle pine). If you are not a big climber, don't worry. This program is a slow and leisurely walk through the coniferous forest from the trailhead to the lodge at the fifth station, adjusting to your hiking level and time you wish to spend. The Japanese refer to immersion in the woods as forest bathing.
A Geopark guide with a thorough knowledge of Apoi's nature will take you to a relaxing and rejuvenating time.

Reservations

Samani Town Mt. Apoi Geopark promotion committee
(Samani Town Hall Commerce and Tourism Division)
0146-36-2120
apoi.geopark@samani.jp
http://www.apoi-geopark.jp/

Additional information

*Please make a reservation at least three days in advance.
*Dress appropriately for hiking.
*Elementary school students must be 5th grade or older, and accompanied by a parent or guardian.