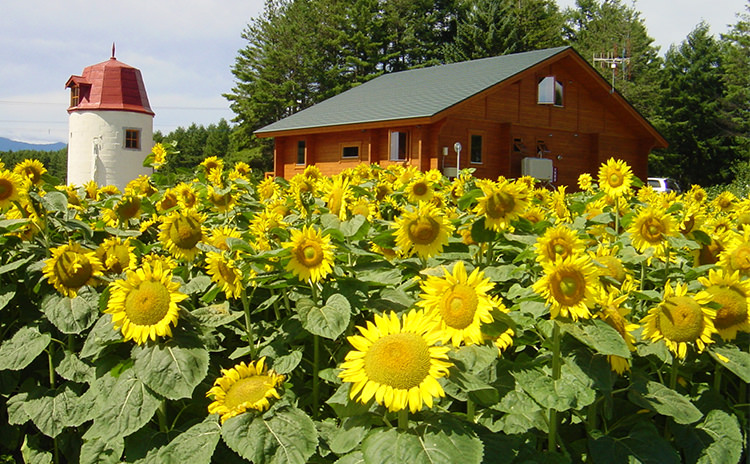 Farm stay in the vast fields of the Tokachi Plain! Stay in a private log house.♪
Event season
All year around
Price
Adult: ¥5,400
Child: ¥2,160
(no meals included)
Max. Group size
13 people (Min. 1 person)
Meeting point
Farm Inn Bouhurin
(825-2 Monbetsu, Hiroo)
What to expect

This wheel chair accessible cottage made of locally grown larch on the southern edge of the Tokachi Plain is a farm inn run by a dairy farmer couple.
Escape from the hustle and bustle of everyday life and relax and refresh yourself in the richness of nature. A variety of hands-on programs (optional) are available for guests only.

【Experience Program】
・Farm tour (30 minutes to 1 hour)…¥1,080 yen per group
・Calf feeding (30 minutes in the morning or evening): ¥540
・Feeding calves (30 minutes in the morning or evening): ¥540
・Making butter and milk curd (30 minutes to 1 hour): ¥540 each
・Harvesting (only in autumn, 30 minutes to 1 hour): ¥540
・Nature observation, play in river, play in snow (1 to 2 hours each): ¥1,080

Reservations

Farm Inn Bouhurin
090-9524-3044
obaba@viola.ocn.ne.jp
https://www.bouhurin.com

Additional information

・If you would like to participate in the hands-on program (optional for guests only), please bring clothes you don't mind getting dirty.
・We do not provide meals. We will introduce you to nearby supermarkets and good local restaurants. Cooking not your thing? Don't worry, we will help you.