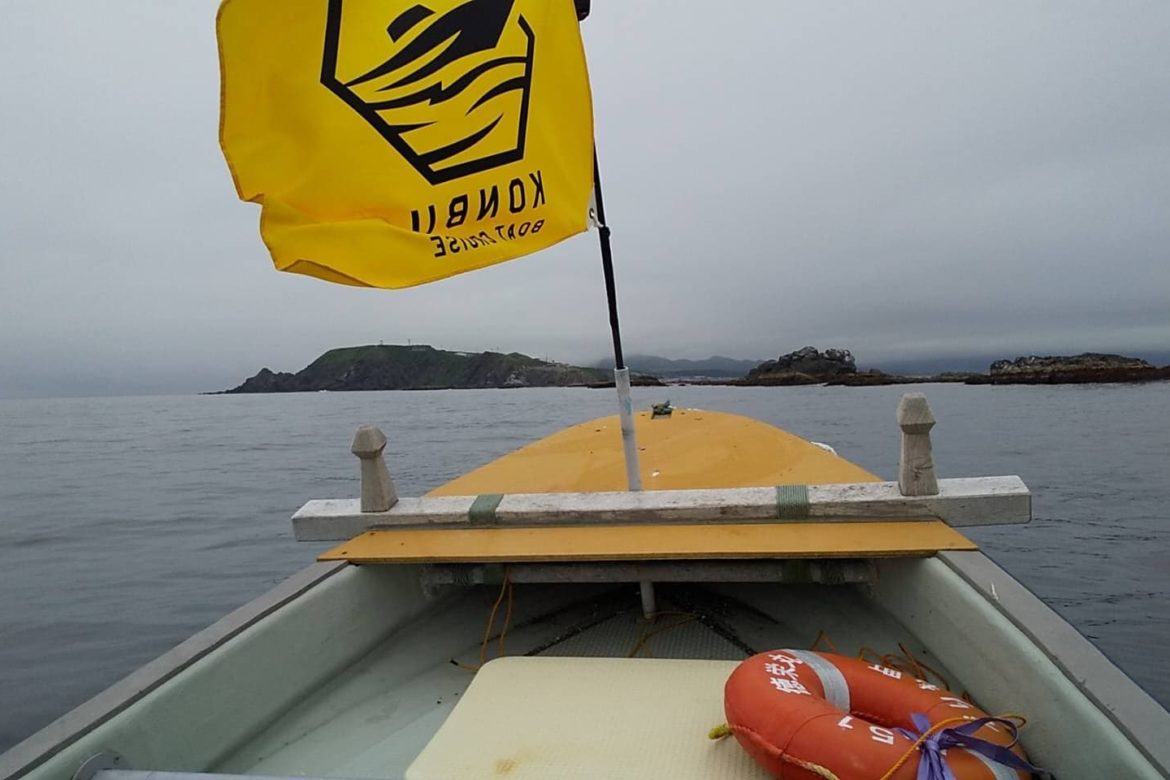 konbu(kelp)boat cruise (East route)
Event season
4.1.2020 - 11.30.2020
Time and Duration
Departure time is between 8:00 and 16:00, by the captain's judgement
Duration: 30 minutes
Price
【konbu(kelp)boat cruise (West route)】 ¥5,000 (Tax included)
*Common price for adults and children
Max. Group size
6 passenger / trip
Meeting point
Cape Erimo "Kaze no Yakata"
366-3 Toyo, Erimo, Horosen-gun, Hokkaido
〒058-0343
Guide
Hiroaki Murata (Captain of Kagayakimaru)
What to expect

Cruise to enjoy Cape Erimo, Hokkaido to the fullest! Put your hand down and you can touch the sea. It's as exhilarating as riding a motorcycle on the sea.
Only kelp fishermen (agents) can carry out this operation. Let's enjoy Cape Erimo aboard a kelp fishing boat (konbu(kelp)boat)!

konbu(kelp) Boat Cruise East Route
Sailing distance: about 6.2 km
Duration: about 30 minutes
Aboard the "Kagayakimaru" operated by Captain Murata, active kelp fisherman, born and raised in Cape Erimo!

【 Flow of the experience】
①Meet in front of the Cape Erimo "Kaze no Yakata".
②Follow the guide to the departure point.
③Captain's decision to depart (depends on the weather, and on the luck of the participants!)
④Put on your life jackets and get ready to set sail!
⑤Explanation by the captain about the precautions to be taken while sailing.
⑥ Finally, board the konbu(kelp)boat!
⑦Set sail with the captain's shout! Observe the rules while sailing and enjoy Cape Erimo to the fullest!

Reservations

Make a reservation by phone or e-mail.

For inquiries about the program, please contact
Office of konbu(kelp) Boat Cruise 090-5228-0111
konbuboat@gmail.com

Additional information

・The walkway to the boat ramp is gravel and there are some ups and downs. If you are not confident with such walkway, please attend west route as it is an easier walk to the boat ramp.
・Passengers must be at least 110cm (3ft 7in) tall and able to sit alone in a seat during the cruise (e.g., the boat cannot be operated while holding a child or a person in need of assistance). Please be sure to read the "Erimo Sightseeing Association konbu(kelp) Boat Cruise Conditions of Carriage" on the official website before making a reservation.
・Pets are not allowed on the boat.
・In the event that we are unable to sail due to inclement weather, we reserve the right to cancel your reservation without prior notice.
・We reserve the right to cancel your reservation without prior notice due to fishing activities or sailing restrictions.

*The final decision on whether or not to sail will be made 10 minutes prior to departure (the boat may be cancelled due to heavy fog just prior to departure).