Pan Paka Pan (Bakery)
Pan Paka Pan offers freshly baked breads made with local seasonal vegetable and other ingredients. You can enjoy the beautiful view of the ocean along with the delicious and delicate oven fresh bread. Especially in the summer, the best spot is the outdoor seating by the ocean (Indoor seats are also available). Soup and coffee make for the perfect accompaniment for the bread.
1-1-1 Sakaimachihigashi, Urakawa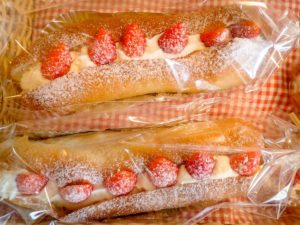 An exquisite fresh whipped cream sandwich made with Urakawa's summer strawberry "Suzu Akane".